Student Sponsorship Programme
At the heart of PCL's mission is a commitment to ensure our business activities are supported by vigorously researched tools and concepts. The Student Sponsorship Programme is an opportunity to use PCL's tools for your own research purposes whilst gaining valuable insight into what it's like to work in a business psychology consultancy. This experience will prove highly beneficial for those looking to move into the industry and will help to increase the breadth and depth of research within our field.
Why Apply for the Student Sponsorship Programme?
Access to PCL tools for use in research – our selection of psychometric assessments will be available for SSP participants to use
Dissertation support – our research staff can offer support with analysing data and preparing dissertations
Post-graduation support – PCL will support you in promoting your research through conference submissions, publications and media campaigns
Work experience – PCL are keen to offer work experience opportunities to successful applicants, either face-to-face or remotely
SSP Professional Skills Event
As part of the Student Sponsorship Programme, participants will be invited to a Professional Skills Event taking place at our offices in Tunbridge Wells in December. This event will include:
Meet and greet with PCL staff and an opportunity to talk to them about a career as an Occupational Psychologist
Introductory session to PCL's psychometric tools including how they were developed and their application
A look at previous research projects undertaken by students in conjunction with PCL
Business acumen session in which we will offer advice on how to manage your stakeholders throughout your research
Networking and personal promotion guidance so you can gain the most value from the research you've produced
Advice on striking out on your own as a consultant
If you are interested in taking part in our Student Sponsorship Programme, download the brochure which has further details about the benefits of the SSP and outlines the application process, including what to cover in your statement of interest.
I really could not have wished for a better experience.
PCL guided me from finding my dissertation topic, then every following step.
Even now, after having completed my dissertation, PCL's support does not stop: they are helping me submit to Conferences and publish my results online. Being able to have such a huge range of opportunities is rare and highly appreciated.
Overall, I can honestly say that the Student Sponsorship Programme has really helped me to level-up my dissertation. Being able to use a validated tool while aiming to contribute to current literature about risk taking, risk personality and organisational change is a huge plus.
I am extremely grateful to have been a part of the Student Sponsorship Programme.
Charlotte Flohberg
PCL Tools
Successful applicants to the SSP will gain free access to the following PCL tools for use in their research:
Risk Type Compass
The Risk Type Compass® personality assessment focuses on differences in the way individuals perceive, manage and make decisions about risk. Based on extensive global psychological research, it places individuals into one of eight distinctive Risk Types, providing insights that have important implications for individuals, teams and organisations.
Individuals are influenced by risk on a daily basis and comprehending how we react is essential to understanding performance, satisfaction and well-being in a wide range of professional settings. Notable examples of how the Risk Type Compass® has been used effectively across various job roles and sectors include projects in the health & safety, investment banking and auditing industries.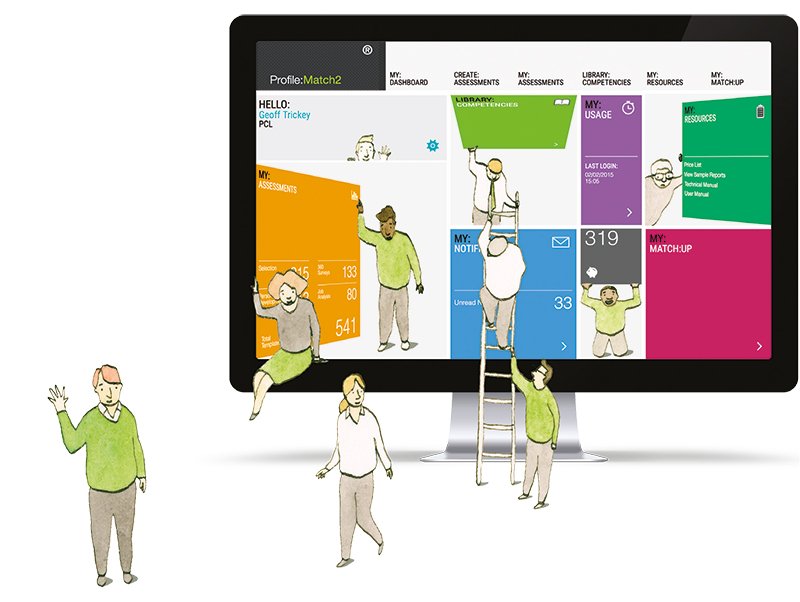 Profile:Match2™
Profile:Match2™ is a personality assessment that can be configured to meet the needs of various contexts, roles and requirements. It is built upon the Five Factor Model of personality and uses algorithms to translate these factors into 27 different workplace competencies that help to predict on-the-job performance.
Profile:Match2™ also encompasses 6 values that can be used to identify the most significant motives, aspirations and principles that drive an individual in their decision-making processes.
The highly versatile tool can be tailored to a variety of situations and used across the employee assessment lifecycle, including Job Analysis, Selection, Development and 360° evaluation.
Our Students
We have welcomed numerous students onto our Student Sponsorship Programme over the years, from universities all over the country. Our students have researched, amongst others, these topics:
Resistance to organisational change
Turnover rates in lawyers
Resilience in mental health workers
Risk, decision making and affect in managers
Our Students have also gone on to publish their work as well as present at various international industry conferences, including the British Psychological Society's Division of Occupational Psychology (DOP) Conference. Examples of the content our Students have produced with our support is available upon request.
As part of my MSc dissertation, in which I investigated the effects of risk and personality on turnover in the legal industry, I used PCL's Risk Type Compass (RTC).
Support from PCL staff during the dissertation was incredible – I felt very supported by Simon, with whom I communicated via Skype and email. PCL supported throughout the project, from the development of the study, through to data collection, analysis and discussing the findings. It really helped to have someone to discuss with at all points, so I am very thankful to have had this relationship with PCL.
Ileana Boyes
Find Out More
Download the brochure for more information or drop Dr Simon Toms an email by clicking on the button below.