Why use Profile:Match2?
Particular personality characteristics may be an asset or hindrance in any job. Being irritable, for example, will significantly undermine performance in a customer service role, whilst being sensitive and empathic are beneficial attributes. In any role, a good match will make for a natural performer while a bad match will struggle to keep counterproductive impulses in check. Profile:Match2 focuses on the behaviours that are critical for success in a specific role and the personality characteristics that drive them.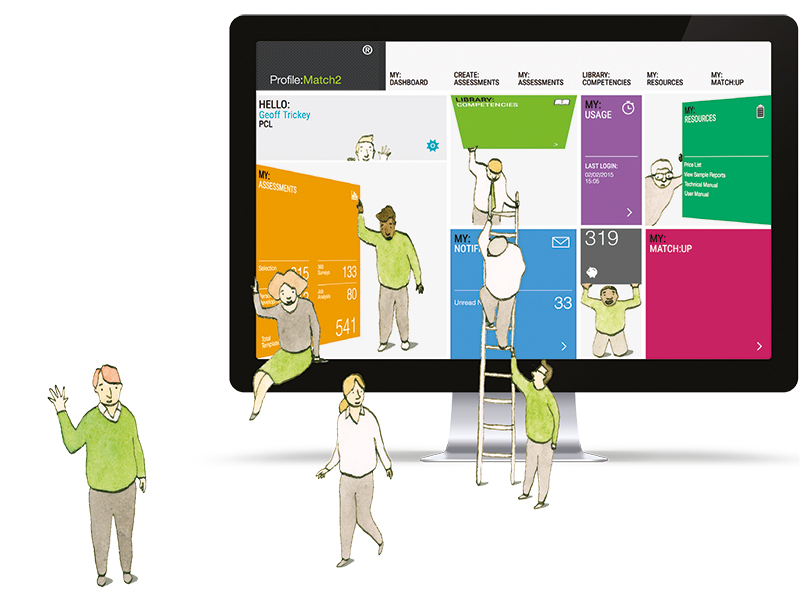 Why is it Different?
It is common practice to use the same personality questionnaire for different roles, leaving the user to unravel what might or might not be relevant. But Profile:Match2 reports are 100% relevant, being tailored to your specific 'ideal candidate ' requirements from the outset. Profile:Match2 also delivers fairness and consistency for every candidate by using the precision of competency metrics to standardise interpretation. Expressing results in terms of your targeted competencies also ensures immediate accessibility for all interviewers and decision-makers.
How Does it Work?
To generate an assessment you simply select the competencies relevant to the role in question. If you are unsure which to select you can use the online Job Analysis Survey to seek opinions from managers, supervisors and people who do the job or know it well. Once you've chosen your competencies, Profile:Match2 builds a tailored questionnaire to assess them and sends you the instructions to forward to candidates. When the questionnaire has been completed a report is emailed to you describing the candidate's profile and explaining how their temperament will aid or impede performance.
Which Assessments is it Used For?
Profile:Match2 can be used across the 'employee lifecycle of assessments'. A simple one-page sifting report is available to help shortlist candidates from a broader pool, while more in-depth reports are available for selection, personal development, 360 assessments and coaching. As a result, you receive seamless and consistent insights across the lifecycle.
What Research is it Based on?
Profile:Match2 is based on the Five Factor Model (FFM) of personality. Supported by an extensive body of research, it is widely acknowledged as representing the core facets, or 'primary colours', of personality. Using complex algorithms, Profile:Match2 translates personality data based on the FFM into the behavioural competencies required for a particular role. Details of our extensive Profile:Match2 research can be found here.