Dig Deeper into Risk Type Compass
The Risk Type Compass pinpoints differences in risk awareness and instinctive responses to risk that have important implications from the boardroom to the shop floor. As well as helping to identify how individuals perceive, manage and make decisions about risk, it provides insights into team dynamics and, at the wider organisational level, contributes to risk landscaping and risk culture surveys.
To view the main product page for Risk Type Compass, please click here.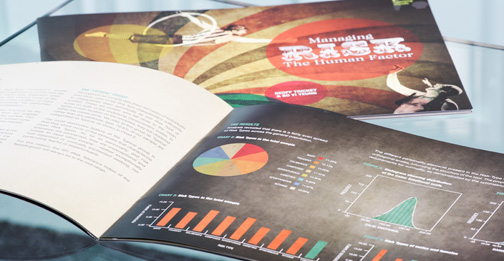 Selection and redeployment
Risk Type Compass adds a new dimension to employee selection procedures, addressing an important aspect of human nature. Risk Type has implications for different roles within an organisation, with sales, compliance, traders and HR, for example, all exposed to very different aspects of risk. Staff retention can also be supported through redeployment of individuals to better suit their risk-taking dispositions.
Personal development
Awareness of one's own risk disposition provides a basis for personal development. Coaching enables an individual to better understand the upside and downside implications on behaviour, management style, decision-making and expectations of others.
Team Building
Self-awareness of Risk Type and understanding colleagues' risk orientation provides a framework for exploring group dynamics, enhancing cohesion and increasing team effectiveness. Teams can be built for purpose, balancing risk-takers and more considered individuals in line with the tasks and responsibilities of the team.
Benefits
Understand the overall team's position with regard to risk taking
Appreciate the different perspectives of contributing individuals
Infer how Risk Type affects communication and social dynamics and the influence of 'risk polarisation' on decision-making
Question whether the Risk Type balance is right for the team
Assess the strengths and weaknesses implied by this balance of Risk Types and how these can be mitigated or enhanced
Explore Risk Type convergence, divergence, influence and group risk 'centre of gravity'
Risk culture is inevitably tied to the individuals within that culture. In this two-way dynamic relationship, people make an important contribution to culture and culture influences people.
The Risk Type Compass can illustrate the dispersal of Risk Type influence throughout an organisation. It helps identify where individuals, teams or departments view uncertainty in terms of risk or opportunity. Extended across the organisation as a whole, this mapping of risk landscape captures the overall risk culture, its homogeneity and the extent to which there are departmental or divisional differences.
Peter Drucker is attributed with the widely repeated assertion that "if it can't be measured, it can't be managed". The Risk Type Compass brings previously impenetrable risk dynamics to the surface, enabling them to be used in strategic and managerial decision-making. See more information under Consultancy.
Approaching culture through the perspective of Risk Type makes it directly measurable in a way that nothing else associated with culture is.
Benefits
Gain a tangible view of the risk landscape, identifying 'hot' or 'cold' spots
Identify the balance of risk taking styles in specific departments or teams
Coordinate talent management, recruitment, re-deployment, development, succession planning
Link survey data to performance observations
Pull data through to generate Team Reports*. See section on Team Building
Use survey data to inform strategic planning and risk policy development
Human factor risk has proved difficult to grasp and the dialogue around risk management has focused heavily on procedures, regulation and legislation rather than on the risk-taking nature of individuals involved.
The Risk Type Compass® identifies eight clearly defined Risk Types and indicates where any individual falls within this spectrum, providing an invaluable area of clarity and consistency amongst the confusion and complexity of more transient influences on risk-taking attitudes.
Many risk management experts who advise, monitor or manage others' risk-taking behaviours recognise the importance of their own self awareness. Everyone is influenced by their own Risk Type, including risk management practitioners, and understanding the full implications of this is a beneficial, if not essential, part of professional development.
Benefits
Conduct robust human factor due diligence using sophisticated and highly relevant assessment that gets to the core of risk issues
Train risk managers, auditors, investors, financial advisers or anyone else involved with risk
The Risk Type Compass® provides a simple and robust framework for financial investment discussions with clients. The report is designed to empower advising consultants to explore a client's risk predispositions thoroughly and engagingly.
Three key factors determine a client's capacity for investment risk. Firstly, Risk Type: their natural temperament and general reaction to any risk or uncertainty. Secondly, Risk Attitude: influenced by situations, experience and personal circumstances. Thirdly, Risk Tolerance: their resilience to the ups and downs of investment. The Risk Type Compass report enables advisers to steer clients towards appropriate investment decisions through a more involving and engaging process.
Benefits
Gain competitive differentiation
Improve the quality and accuracy of financial advice
Identify any mismatch between your client's risk tolerance and investment portfolio
Tailor dialogue to client risk preference; build rapport quickly and effectively
Support fiduciary and compliance obligations, minimise complaints and show commitment to best practice
Make your customer service a positive and engaging experience, helping to create long-term client relationships