Risk Type Compass
The Risk Type Compass personality assessment focuses on differences in the way individuals perceive, react to and manage risk, as well as how they make decisions. Based on extensive global psychological research, it places individuals into one of eight distinctive Risk Types, providing insights that have important implications for individuals, teams and the organisation.
While risk management has previously focused on procedures, regulation and legislation, Risk Type Compass uniquely assesses the risk-taking nature of individuals. By identifying critical individual differences in risk appetite, organisations can maximise potential and balance the contributions of risk-takers and more risk-averse individuals.
Though applicable to all industry sectors, Risk Type Compass has particular relevance within the banking and finance, insurance, energy, manufacturing and consulting sectors.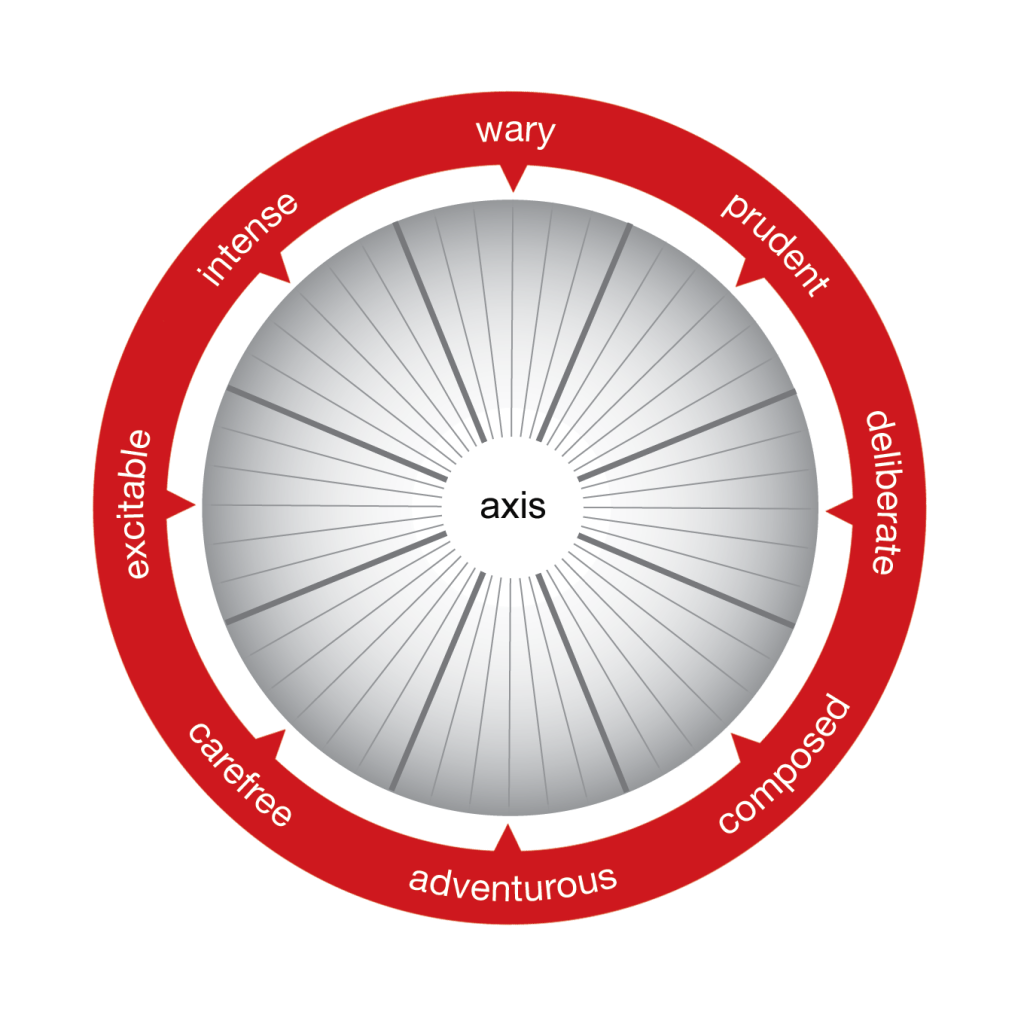 Excitable
Enthusiastic, anxious, committed
Wary
Shrewd, vigilant, controlling
Deliberate
Confident, buoyant, thorough
Adventurous
Intrepid, enterprising, optimistic
Intense
Apprehensive, risk aware, ardent
Prudent
Systematic, orthodox, detailed
Composed
Calm, resilient, undaunted
Carefree
Audacious, curious, unconventional
Risk Type Compass Applications
Click on the headings below for more detail.
An individual's Risk Type reflects their perception, tolerance and propensity for risk taking. Understanding these differences aids in selection, development and team building programs to help ensure an organisation achieves its desired balance. The Risk Type Compass questionnaire is particularly relevant for decision-making roles and those involving high personal risk, or where higher risk aversion or risk tolerance are beneficial. See sample Risk Type Report, Personal Report and Team Report.
Clearly distinguishing between Risk Type, Risk Attitude and Risk Tolerance, the Risk Type Compass presents a practical framework that helps organisations to attain risk management goals. It provides high-utility assessment of deeply rooted dispositions that exert a constant and pervasive influence on resilience to risk, risk-taking behaviour and decision-making. Using the power of psychometric methodology, it significantly improves human factor due diligence and risk management effectiveness.
By mapping the location and prevalence of Risk Types within an organisation, Risk Type Compass enables risk propensity to be identified and managed. Viewing the risk landscape in a tangible way allows organisations to make decisions about the overall risk culture and the extent to which there are departmental or divisional differences.
The Risk Type Compass is used in wealth management and financial advising as a risk tolerance questionnaire to assess a client's propensity for financial risk. It provides the basis for individualised portfolio discussions based on the detailed implications of Risk Type, a process that builds trusting, fruitful and longstanding client relationships. See sample Financial Advisor Report and Investor Report.
The Risk Type Compass has been heavily used to help determine the Risk Types of traders.  By understanding more about their natural skills, capabilities and blindspots, traders are able to determine the strategies and tactics that work with the natural grain of their personality and avoid those that create stress and sub-optimal performance.