The people side of risk, using the Risk Type Compass 
Assessing the people side of risk, and how this impacts our individual approaches to decision making
Risk dispositions impact the decision making of individuals, the inter-personal dynamics of teams and the risk culture of organisations. Knowing how each individual perceives and reacts to risk and uncertainty – the way that they deal with the continual flow of conscious and unconscious decisions – provides invaluable insight into decision-making effectiveness.
The Risk Type Compass assesses risk appetite, supports leadership development, team development, board development, conflict resolution, selection and development processes and organisational change (plus much more).
If you'd like to learn more about the different ways in which the tool can be applied, or to request a demo, contact our Consultant Psychologist, Louisa Bülow, via the link below.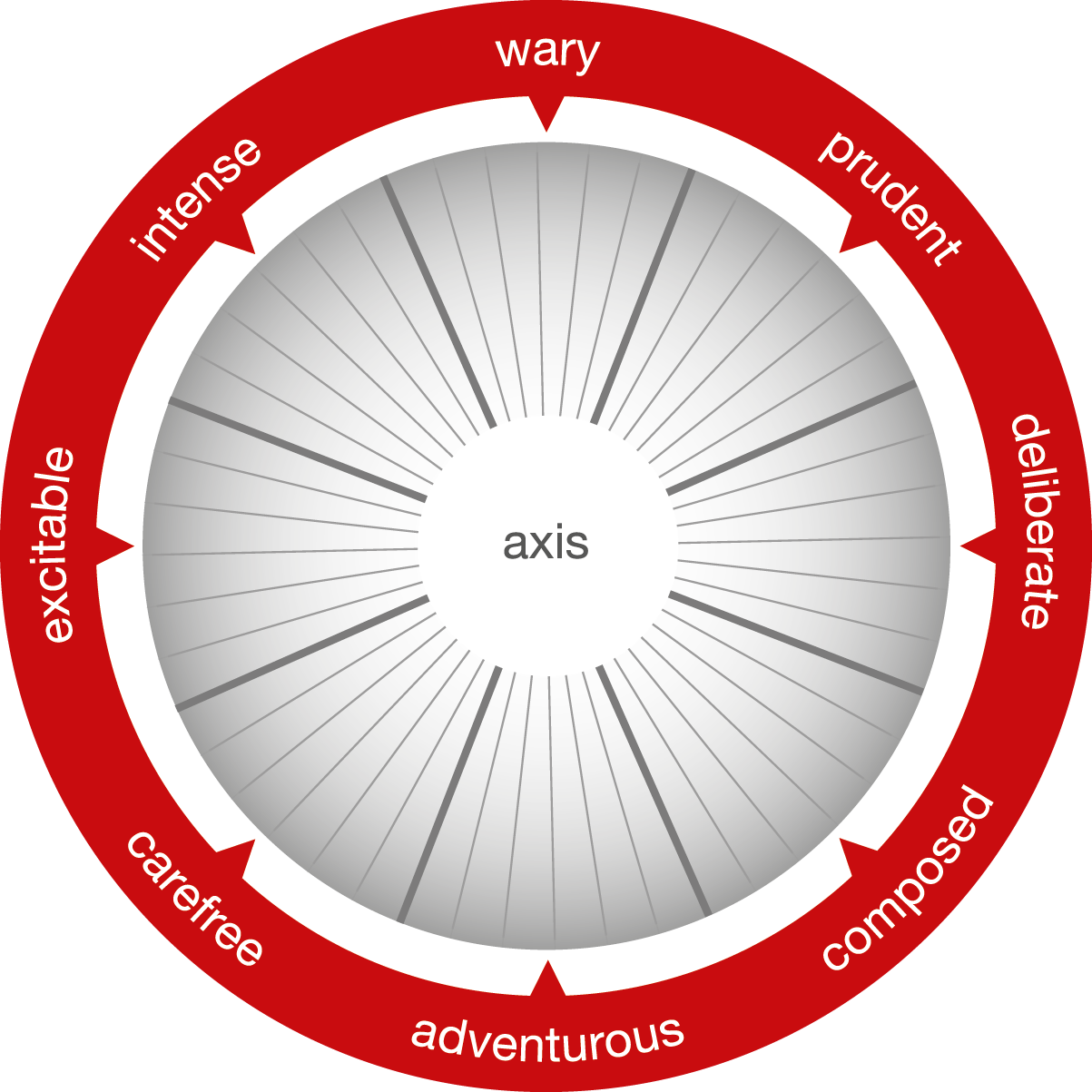 Applying the tool
Registered and recognised by the British Psychological Society (BPS), and developed by highly experienced Chartered Psychologists, the Risk Type Compass reflects the neuroscience of decision-making. It was created through professional practise and action research, allowing the empirical data to drive development, rather than siding with 'big data' and 'dust bowl empiricism'.
Shortlisted for CIR Risk Management Awards 2020, we've worked with a wide range of clients, from large corporates to individual coaches, to support individual, team and organisational level development.
Three sample client scenarios facilitated by the Risk Type Compass (get in touch for many more!)
1. The RTC helped to identify the decision-making style of board members and to assess risk culture. The assessment found all members gravitated towards the same Risk Type. It was clear that their strengths included being calm, level headed and stress tolerant. During the subsequent workshop, it became clear that there were potential blind-spots in their approach to decision-making, such as lacking urgency in implementation and not learning from past mistakes.
2. The RTC was adopted to highlight the strength areas and risk appetite associated with the Risk Type of individual traders. Also, to identify blind-spots, potential performance improvements and the style of trading they were most suited for. The RTC is used extensively in trader coaching in financial centres around the world.
3. The tool has also been used to anticipate sticking points that may arise during organisational change. This enabled leadership to rethink risk in terms of objectively measurable differences, which resulted in increased interpersonal-awareness and mutual respect of Risk Type variations. This open communication channel supported team operations and decision making, championing the realisation of talent, personal responsibility and human capital.
Taking the assessment
The Risk Type Compass personality assessment places individuals into one of eight distinctive Risk Types. By identifying natural differences in risk appetite, you can maximise potential and balance the contributions of risk-takers and more risk-averse individuals.
The assessment is easily administered online and takes just 10-20 minutes to complete. If you'd like to administer the Risk Type Compass tool to employees or clients yourself, you must first complete a qualification workshop, either face-to-face or via our online learning platform. This certification course will provide extensive information on how to interpret and give feedback on an individual's risk profile, guidance on facilitating team development sessions as well as an overview of how to apply the tool to support risk culture strategy. Scroll down to learn more about key applications of the tool, or if you would like to become a certified user, visit here.
If you'd like to speak to our Risk Type Compass Consultant Psychologist about how you can use the Risk Type Compass in your workplace, please contact Louisa Bülow. Click to view sample reports, report pricelist or the brochure.  
Selection & Development
Risk Type has implications for different roles within an organisation, with sales, compliance, traders and HR, for example, all exposed to very different aspects of risk. From hiring the right person, to on-the-job coaching and personal development, the Risk Type Compass helps you understand an individual's risk attitude and helps inform decisions at an individual, team and corporate level. See sample Risk Type Report and Personal Report.
Risk Management
Looking at the 'human factor' or the people side of of risk management, the Risk Type Compass helps organisations to attain their risk management goals. It significantly improves human factor due diligence and risk management effectiveness by raising awareness of an individual's predisposition to risk and how that may manifest in a team.
Corporate Governance 
The Risk Type Compass tool can support compliance with the Financial Reporting Council's UK Corporate Governance Code when board members are assessing the level of risk the organisation is facing from internal, emerging and principal sources. Contact us to learn more.  
Team Building
The Risk Type Compass can be used to develop teams, groups and executive boards. By assessing different team members Risk Type and attitude, imbalances or the potential for conflict can be identified and mitigated, ensuring a balance of behaviours across the organisation. See sample Team Report.
Risk Type Landscape
By mapping the location and prevalence of Risk Types within an organisation, Risk Type Compass enables risk propensity to be identified and managed. Viewing the Risk Type Landscape in a tangible way allows organisations to make decisions about the overall risk culture and the extent to which there are departmental or divisional differences.
Sectors
Though applicable to all industry sectors, understanding the people side of risk has had particular relevance within the banking and finance, health and safety, insurance, energy, manufacturing and consulting sectors. Visit our Knowledge Bank to see the full range of Risk Type Compass resources.
Trading:
The Risk Type Compass has been widely used to determine the Risk Types of traders. By understanding more about their natural skills, capabilities and blindspots, traders are able to determine the strategies and tactics that work with their personality and avoid those that create stress and sub-optimal performance.
Watch our webinar on how understanding risk type can impact trader performance here.
Heavy industry:
The Risk Type Compass has been used extensively in heavy industry where risk management is crucial. Turning attention to the human factor, the Risk Type Compass facilitates more effective management of staff in hazardous situations; it provides a common developmental language and framework for staff and managers to engage with.
Watch our webinar on how to enhance your H&S strategy by addressing the people element.
Financial Services:
Risk Type Compass is frequently used in wealth management and financial advising, ensuring fiduciary and compliance obligations are met in regards to assessing a client's propensity for financial risk. The Risk Type Compass report helps advisors assess a client's risk appetite and steer them towards appropriate investment decisions.
See sample 
Financial Advisor Report
 and 
Investor Report
.
Interested in learning more about managing the people side of risk?
Risk Type Compass Distributors: