Hogan Certification & Advanced Training
Here at PCL, we've been facilitating Hogan training workshops for over 20 years. Through our close relationship with Hogan Assessment Systems and working with the Hogan tools with clients, we've built up an in-depth knowledge of the Hogan suite – knowledge we are eager to share in our Hogan workshops.
If you're new to Hogan Assessments, don't worry – our two day Hogan Certification Workshop requires no previous qualifications and gives you the knowledge to start using the Hogan tools immediately.
If you're a seasoned Hogan-user, or you trained a little while ago and are looking for a bit of a top-up, we've got you covered too. We offer Hogan Advanced Interpretation or Advanced Feedback courses, as well as on-demand Hogan Refresher webinars.
For those of you particularly interested in the 'Dark Side' of personality, our Chief Psychologist, Gillian Hyde, is running exclusive Hogan Development Survey Masterclasses. These workshops will take a deep-dive into the HDS and Gillian will share her knowledge gathered over an impressive 20 years of using the HDS.
Whatever your background, and whatever you want to use the Hogan tools for, our experienced Trainers will leave you feeling confident and capable.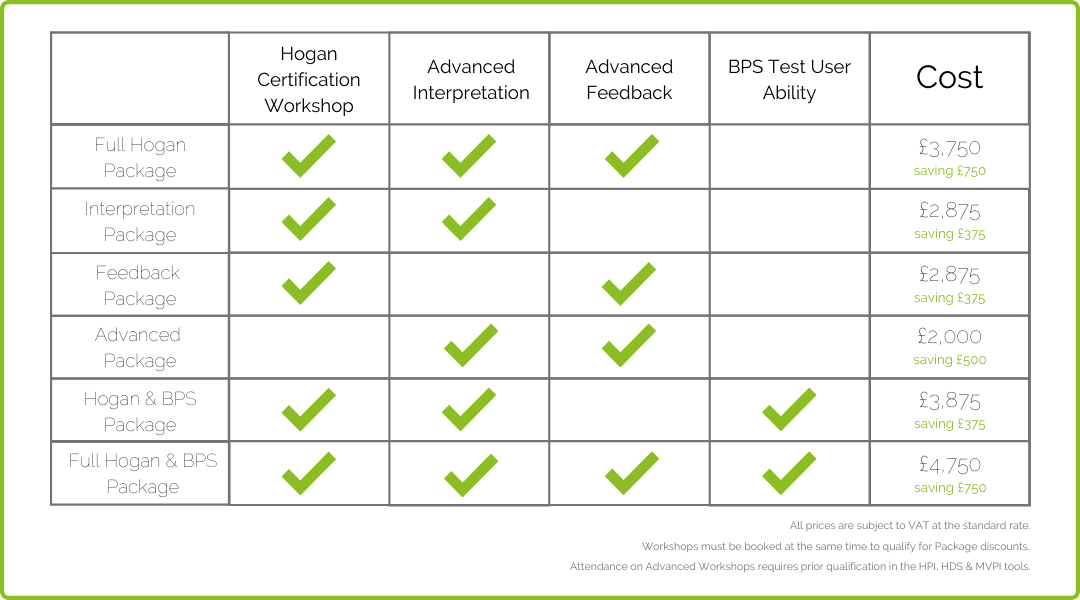 Hogan Certification Workshop
This two-day workshop provides an introduction to the suite of Hogan tools:
You'll learn about the content and applications of all three Hogan tools and you'll be given the opportunity to practise your new skills in a series of interactive exercises, covering interpretation and feedback.
Prior to the course, you'll need to complete a short online pre-course module, and after attending the workshop you'll need to complete a post-course 'Test of Understanding' – after this, you'll be fully qualified in the HPI, HDS and MVPI tools.
You'll also receive:
Full HPI, HDS & MVPI Leadership Forecast Reports
Access to PCL consultants' extensive practical knowledge
Electronic versions of the HPI, HDS & MVPI manuals
Exclusive training materials designed using our in-depth knowledge and experience of Hogan assessments
Workshop Cost: £2,000 + VAT

Access our full calendar here or see our upcoming courses below.

Hogan Advanced Interpretation
This one-day workshop is a hands-on, fast-paced session that prepares you for interpreting scale combinations more skillfully, connecting scales across assessments and interpreting complex combinations with ease.
You'll be addressing scale and subscale level data to draw effective developmental conclusions, and aid in getting the most value from the Hogan suite of assessments.
Is this the right course for me?
If you're looking for a more sophisticated approach to the Hogan assessments and feel that a deeper knowledge of the scales, subscales and their combinations across the entire Hogan suite would be useful, this course is for you. You'll have plenty of opportunity to develop your interpretation skills across a number of case studies, combining the HPI, HDS and MVPI tools.
Workshop Cost: £1,250 + VAT

Hogan Advanced Feedback
This one-day workshop is your opportunity, as a fully-qualified Hogan user (HPI, HDS and MVPI qualifications are pre-requisites to this Workshop), to hone your feedback skills and expand your knowledge.
This experiential workshop provides you with knowledge of advanced feedback models, how to integrate Hogan data with other inputs, tips for creating developmental action plans, and an understanding of best practices for delivering Hogan feedback.
Is this the right course for me?
If you're relatively new to delivering feedbacks, especially to top-level leaders using sophisticated psychometric assessments, this course will help to give you the confidence to be an effective and personable coach. This workshop covers the fundamentals of setting up and delivering a professional feedback session, so may not be suitable if you are a highly experienced coach.
Workshop Cost: £1,250 + VAT

HDS Masterclass
The HDS Masterclass gives you the opportunity to delve further into the Hogan Development Survey subscales and the various scale combinations, giving you the confidence to uncover more nuanced information on the Dark Side of personality.
You'll cover a number of interpretation case studies, as well as covering current research and thinking around the HDS.
Is this the right course for me?
If you're an HDS trained user and looking for more in-depth interpretation skills, this is the perfect opportunity to learn from one of the world's most experienced HDS users.
If you're looking for a deep-dive into all three Hogan tools, the Advanced Interpretation or Advanced Feedback Workshops will be a better option for you.
Workshop Cost: £750 + VAT

British Psychological Society Qualifications
If you want your Hogan qualifications to be listed on the British Psychological Society's (BPS) Register of Qualified Test Users (RQTU), we can help. We offer BPS-verified Hogan training, drawing on our extensive knowledge of the Hogan tools as well as our close relationship with the BPS.
Starting from scratch?
If you have no prior BPS or Hogan qualifications, you will need to attend the following workshops in order to qualify for RQTU registration:
BPS Test User Ability – one-day Workshop plus pre- and post- coursework
Hogan Certification Workshop – two-day Workshop with short pre- and post- coursework
Hogan Advanced Interpretation – one-day Workshop
Hogan & BPS Package Cost: £3,875 + VAT
Already BPS qualified?
If you're already Test User Ability (Level A) and Test User Personality (Level B) qualified, and now want to gain your Hogan qualification to add to the RQTU, you'll need to attend three days of face-to-face training:
Hogan Certification Workshop – two-day Workshop with short pre- and post- coursework
Hogan Advanced Interpretation – one-day Workshop
Interpretation Package Cost: £2,875 + VAT

On-Demand Refresher Webinars
For those already qualified in one or more Hogan tools, we have a series of pre-recorded webinars available. Each webinar provides a reminder of the scales, applications and interpretation of each Hogan tool (HPI, HDS and MVPI) and will 'top-up' your existing Hogan knowledge.
The webinars are available either as single-tool videos (£125 + VAT each), or a package of four videos (£350 + VAT), including the HPI, HDS and MVPI individual videos as well as a video covering the interactions and links between all three tools.
Click here to purchase the Hogan Refresher Webinars.

Not sure which Workshops are best for you?