Hogan Certification Training
We offer a comprehensive range of Hogan training courses aimed at HR professionals, training and development specialists, business psychologists, consultants and coaches. Our courses are led by highly experienced psychologists who tailor the content accordingly to ensure you are able to administer, interpret and implement the Hogan assessments with confidence.
As well as our two-day Hogan Certification Workshop, which qualifies you to use the assessments to enhance recruitment, development, coaching and team building, we offer one-day workshops and more in-depth advanced courses.
PCL was the first international distributor of Hogan assessments, enabling us to share almost 20 years' in-depth experience of these tools through our training. We are also the only organisation to provide Hogan training accredited by the British Psychological Society (BPS). Completing our courses qualifies you to be named on the Register of Qualifications in Test Use (RQTU) and we are accredited to use Hogan as part of our BPS Test User Personality (TUP) course.

Hogan Certification Workshop
The two-day Hogan Certification Workshop is designed to provide an introduction to the HPI, HDS and MVPI.
Participants will learn about the content and application of all three tools and will practise their skills in a series of interpretive and feedback exercises.
Upon completion, attendees will have access to the HPI, HDS and MVPI and can use them in their own professional practice. During the course, participants will receive:
Full HPI, HDS & MVPI Leadership Forecast Reports
Access to PCL consultants' extensive practical knowledge
Electronic versions of the HPI, HDS & MVPI manuals
Exclusive training materials designed using our in-depth knowledge and experience of Hogan assessments
One Day Workshops
One-day courses are available for each of the HPI, HDS and MVPI assessments. They are designed for those who will be delivering in-depth interpretation and feedback. Although courses cover some technical background to the assessments, the emphasis is on practical activities that guide delegates through Hogan interpretation, feedback and report writing.
Attending any of these courses can lead to eligibility to be entered onto the British Psychological Society's Register of Qualified Test Users (RQTU).  In order to gain the RQTU qualification for the HDS an additional day of training is required; this HDS Advanced day provides further opportunity for feedback practice and advance interpretation of the HDS.
Upcoming Courses
Dec
10
Tue
Hogan Certification Workshop London

@ BPS Offices, London
Dec 10 @ 9:00 am – Dec 11 @ 5:00 pm
This two-day Hogan Assessment Certification Workshop in London provides comprehensive training on how to implement and interpret Hogan's three core assessments:
The Hogan Personality Inventory (HPI) evaluates personality characteristics that people need to get along and get ahead
The Hogan Development Survey (HDS) identifies factors that impede career success
The Motives, Values, Preferences Inventory (MVPI) identifies individuals' drivers and core values
Participants attending both days and successfully completing the workshop will be certified to use and interpret the Hogan inventories.
PCL and Hogan Training
PCL were the first international distributor of Hogan tools and have been working closely with Hogan Assessments since 1996. Our long history and experience mean we pride ourselves on offering excellent Hogan training from the experts. We are the only UK verified assessors providing British Psychological Society accredited Hogan training, enabling registration on the Register of Qualifications in Test Use (RQTU).
For more information call our office on +44 (0)1892 559 540, or email info@psychological-consultancy.com
Advanced & Refresher Courses
HDS Advanced
The HDS Advanced course offers you the opportunity to delve further into the Hogan Development Survey subscales to uncover more nuanced information on the dark side of personality.
You will also gain advanced interpretation skills and refresh your knowledge of the HDS more broadly, allowing you to develop nuanced interpretations of profiles and provide meaningful feedback to candidates.
This course is necessary if you wish to gain BPS RQTU recognition for your HDS qualification.
Click here to read our 'Decade of the Dark Side Report'.
On-Demand Refresher Webinars
For those already qualified in one or more Hogan tools, we have a series of pre-recorded webinars available. Each webinar provides a reminder of the scales, applications and interpretation of each Hogan tool (HPI, HDS and MVPI) and will 'top-up' your existing Hogan knowledge.
The webinars are available either as single-tool videos (£125 + VAT each), or a package of four videos (£350 + VAT), including the HPI, HDS and MVPI individual videos as well as a video covering the interactions and links between all three tools.
Click here to purchase the Hogan Refresher Webinars.
Hogan Team Dynamics
Teaching teams about the bright side, dark side and 'inside' personality traits of their members can have a hugely positive impact on team dynamics. This train-the-trainer course, aimed at qualified Hogan professionals, equips you with a course structure, activities and engaging exercises to take back to your organisation, allowing you to run effective team workshops with the Hogan tools.
Whether you are looking to enhance relationships in a high-performing team or have a toxic team struggling with conflict, the Hogan tools can help pinpoint areas to help improve team effectiveness.
Click here to book your place.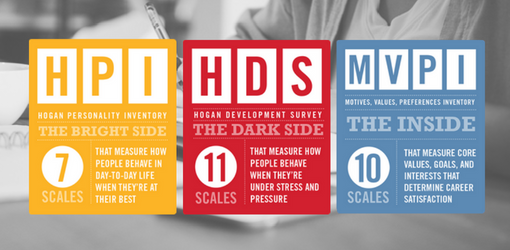 Contact PCL to discuss your needs