Last month, we held our second annual conference at the Wellcome Collection in Central London – this time focusing on our very own Risk Type Compass tool.
It was fantastic to speak to our clients and introduce ourselves and the Risk Type Compass to new faces in the crowd. If you attended, we hope you had a great time!
Photos of the event can be found in this post below, and footage will be available shortly for anyone who would like a recap of what happened.
Johann Wium – 'An Even Safer Bet: Using the RTC in ATCO Selection'
We've been working with Johann, an Aviation Psychologist working at ATCO in Air Traffic Controller selection, for a number of years now – but there's nothing better than hearing the whole RTC-ATCO story straight from the horse's mouth!
Johann took us through the story of Risk Type Compass, as he uses it, explaining how the (rather spectacular) finding that 75%+ of Air Traffic Controllers fall into the Deliberate Risk Type was only the beginning of the process. Using the new (as of 2019) Risk Type Subthemes, Johann was able to finesse the selection process even further – and we were delighted to hear his enthusiasm and his hopes for the future.
Johann's original research can be found here, and you can view the footage of his presentation here.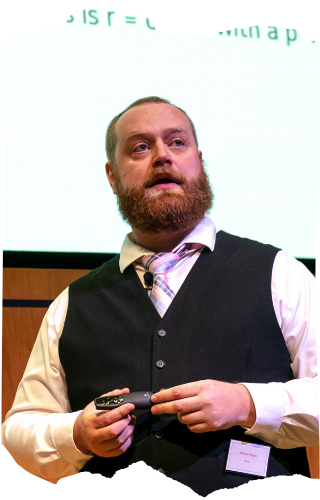 Amba Zeggen – 'Risk Type Diversity in Financial Industries: Should We Care?'
Amba is an incredibly interesting woman, working in the top-levels of finance in the Netherlands. Trained as an Actuary, she now spends a lot of her time working with financial boards/teams – running full-day sessions using the Risk Type Compass in order to facilitate better communication and more effective decision making processes.
At the Summit, Amba's session focused on the overall risk dispositions of the financial industry, in her experience – and she was certainly engaging! Audience participation most definitely required in this session.
We can't do it justice here, but make sure you watch the footage.
Ruth Murray-Webster – 'Risk Type & Organisational Change'
Ruth has been using the Risk Type Compass almost since its inception a decade ago, so she really knows her stuff! At the Summit, Ruth drew on a number of years of working with large and small companies using the Risk Type Compass to facilitate and support organisational change.
She noted that Risk Type is an important factor in someone's willingness to accept large or small changes in the workplace – something that recent Student Sponsorship Programme research has corroborated. Ruth's presentation left us with actionable tips for improving change processes which you can view here – thank you, Ruth!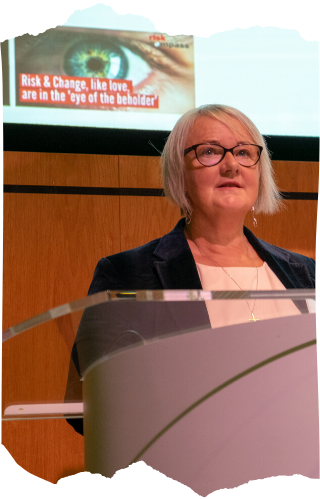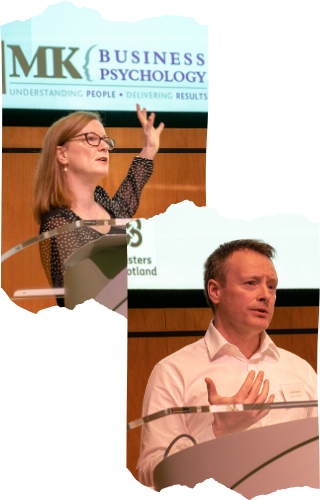 Christine Bishop & Jim McConnell – 'Re-Thinking Risk In a Public Sector Organisation'
Christine and Jim presented together on a project they've been conducting over the last year or so. Christine is a Business Psychologist who has been using the Risk Type Compass for many years, and Jim, who is Head of Risk & Information Governance for the Registers of Scotland, has been Christine's client in this project.
Together, Jim and Christine have introduced the Risk Type Compass to the Registers of Scotland, with the aim of improving team efficiency during a big project – the digitalisation of 400 years of written records!
Jim and Christine's work is continuing, and their presentation gave us a sneak peek at the Risk Landscape – a survey using the Risk Type Compass to create an interactive graphic of risk dispositions across the organisation. Keep your eyes peeled for its 2020 release…!
You can find Christine & Jim's presentation footage here.
For a quicker look at the Risk Type Summit, here are some of the speakers talking about the utility of the Risk Type Compass tool and their work with Psychological Consultancy Ltd.
Contact us for enquiries on 01892 559 540.
Our Thoughts
We thoroughly enjoyed the day, and our thanks go out to all attendees, speakers and staff for making it so great. We're delighted that so many of you have caught the Risk-Type-bug and can't wait to see what 2020 brings for Risk Type Compass.
Here are some of our personal highlights from the Risk Type Summit.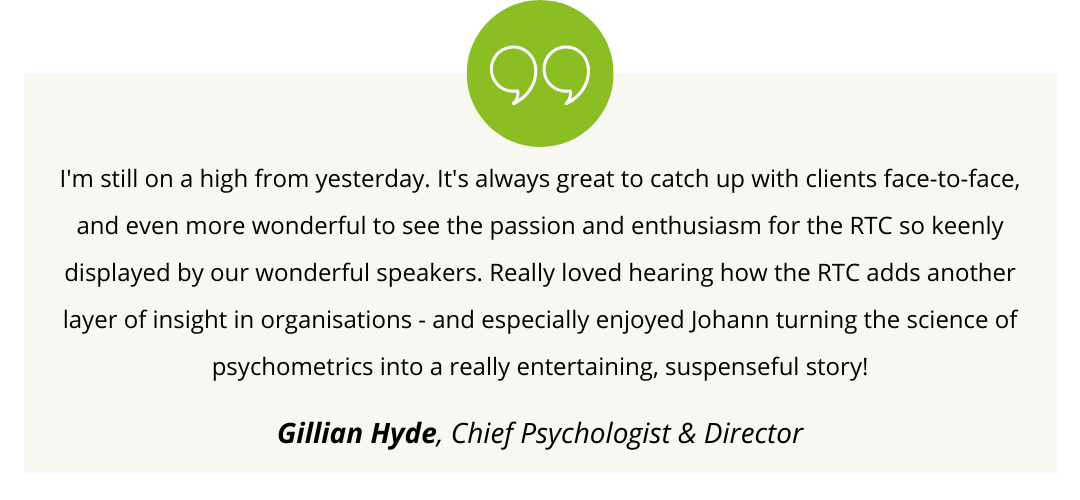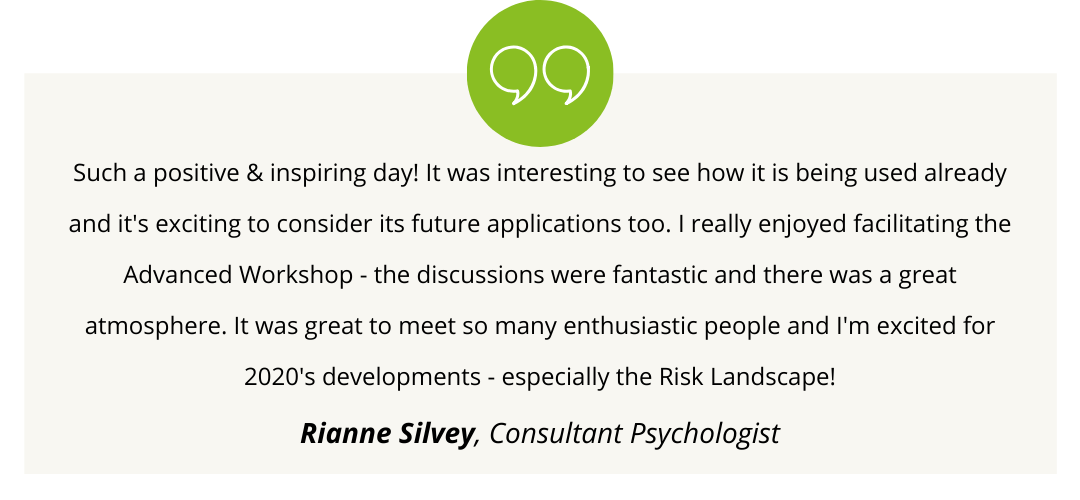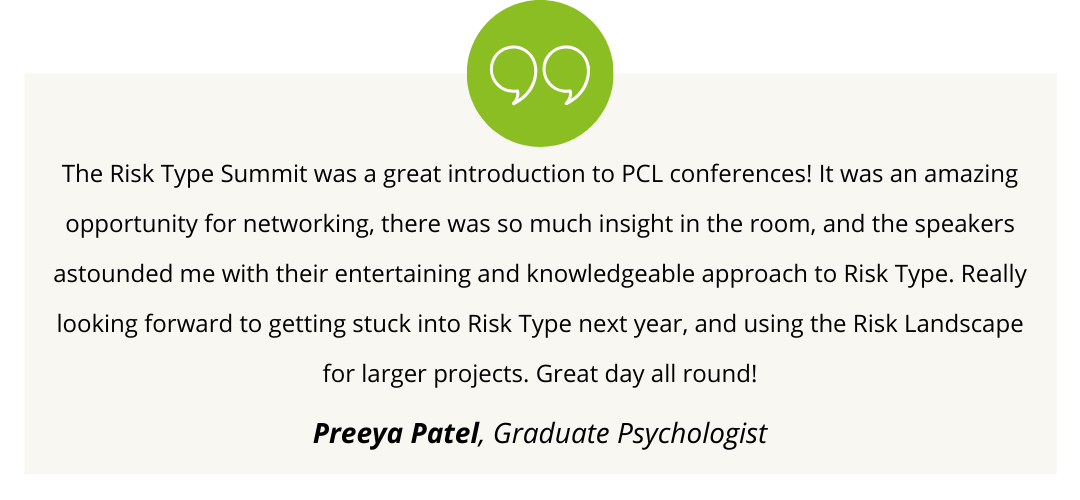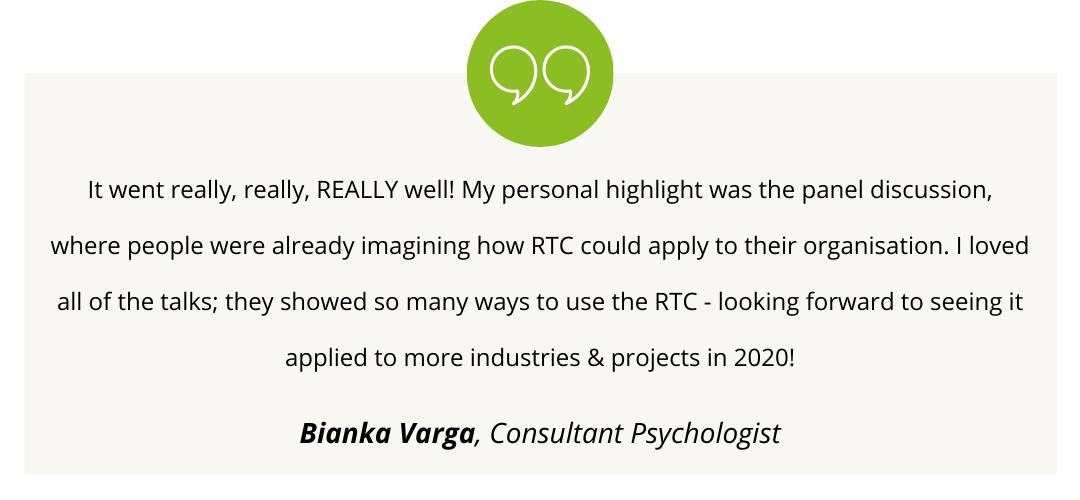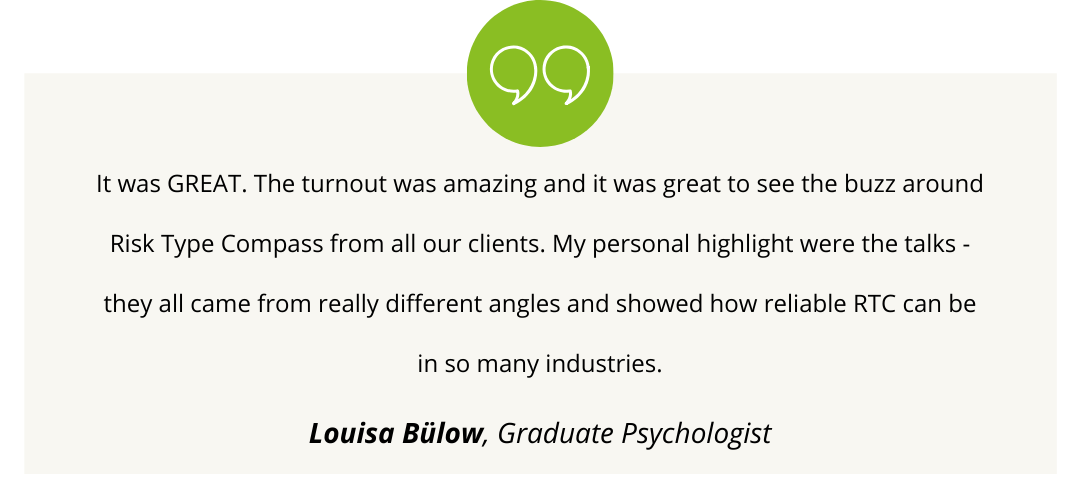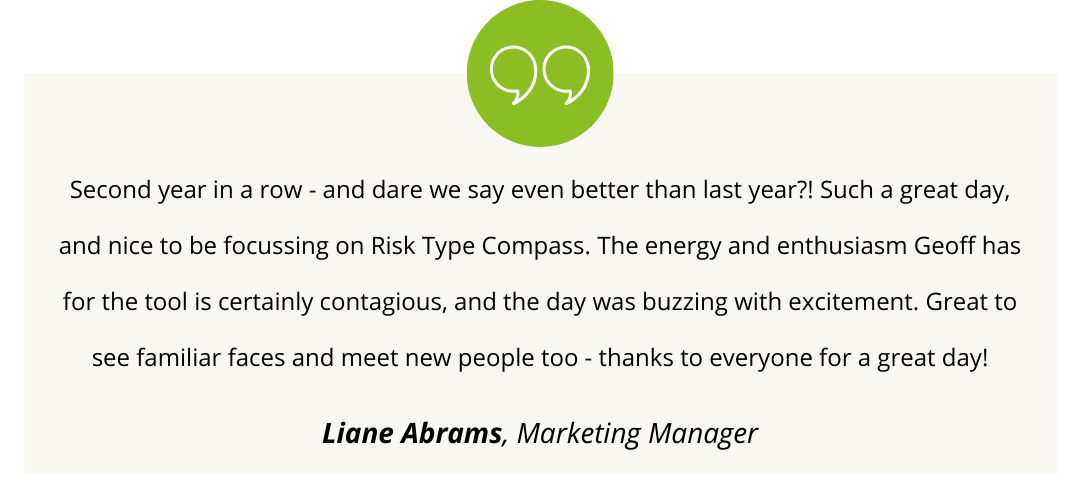 What's Next?
If you missed out on the day, or if you're in need of a reminder of all the gems of knowledge shared, the footage of all our speaker sessions will be released shortly. Make sure you're subscribed to our mailing list and following us on LinkedIn to be the first to hear!
After the success of our Risk Type Compass Advanced Workshop at the Summit, we have a number of face-to-face Certification and Advanced Workshops scheduled for 2020. Join us on any of the following dates, or click here for more details: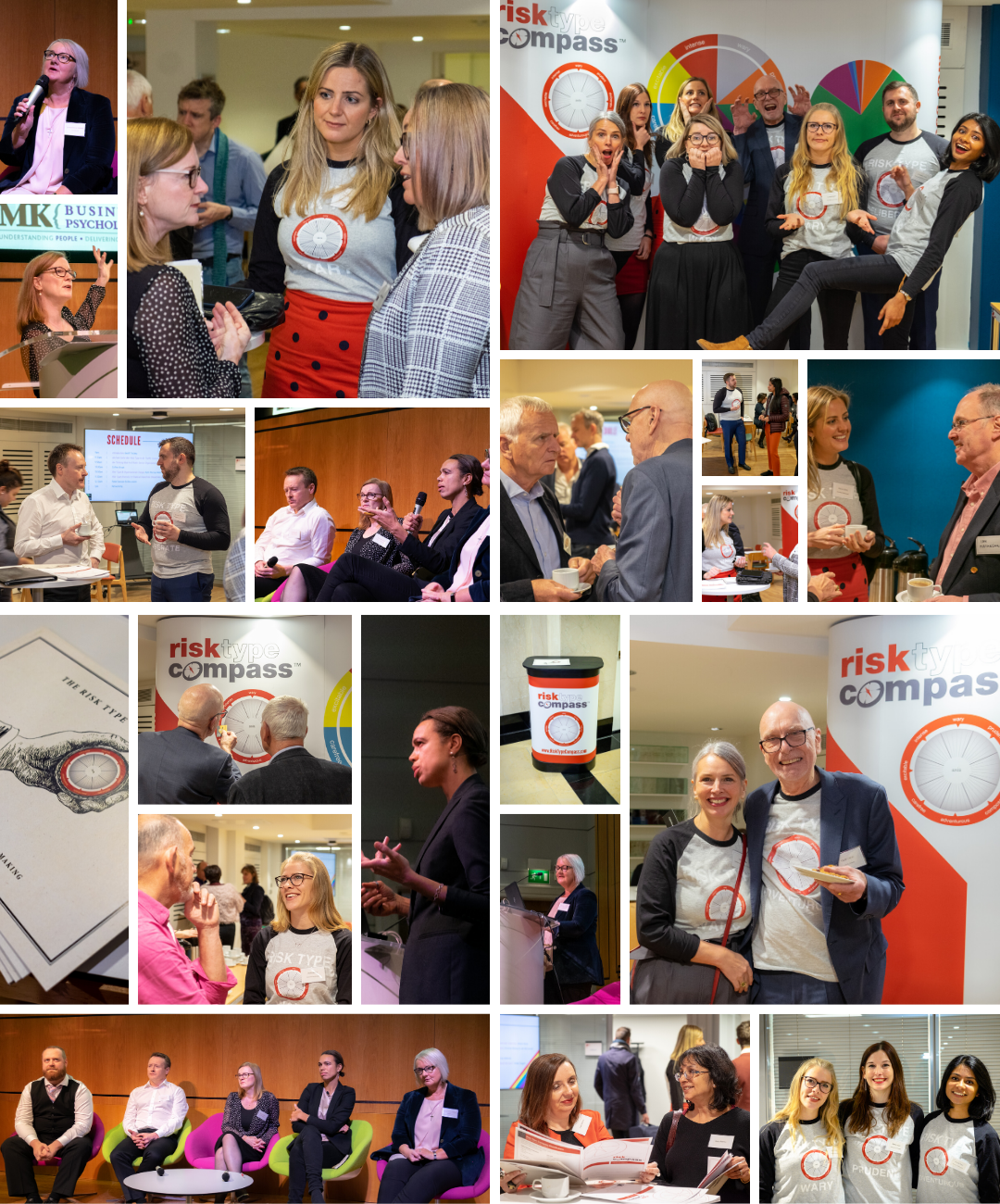 Want to know more about Risk Type?